Alnwick International Music Festival -
The Final Years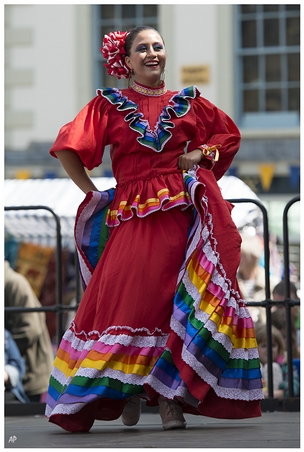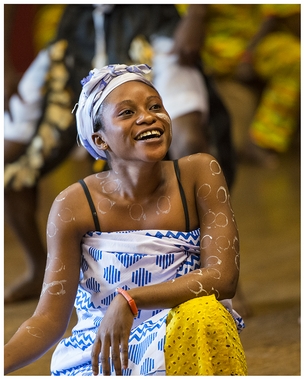 The end of July and the begining of August used to mean the Alnwick International Music Festival. Sadly, the vibrant and colourful eight-day international event is no more.
For over forty years it was a very popular and unique event, where the town of Alnwick, in Northumberland, played host to folklore groups from around the World, who spent a week in the Town giving performances of their traditional folklore music, song and dance. Performances took place in various locations around the town, but an open-air stage in the Market Square, in the centre of the town, was the focal point for the various colourful and vibrant music and dance routines and were free for people to come and watch. The week provided an excellent opportunity for people of very different cultures and backgrounds to come together for a week of fun and friendship through music and dance. The international performances were interspersed with local and regional artists which provided a very full and varied programme. It also meant an enormous amount of work for the organisers and the very many volunteers who shed a lot of blood, sweat and tears to put the event on.
At the end of the 40th festival in 2015 it was announced that rising costs and the difficulty of accommodating very large visiting groups meant that, if the Festival was to survive, it would have to be down-sized and the festival of 2016 would be the first of a new model of festival.
The Festival was then hit by further problems in that the accommodation for visiting groups, normally provided at the local high school, would no longer be available.
The net result was a festival that was stripped of its international colour and vibrancy with the local and regional performers being left to carry the can.
There was nothing wrong with the local and regional performances and they were well received; many of them were firm Festival favourites and have appeared in the International Festival mix for many years. It was not so much a matter of what the Festival was, it was more of a matter of what the Festival wasn't. Alnwick Festival, as an international, free to watch event was unique and probably the most successful annual event organised in the Town in the last forty years and it pulled audiences from all over the country for many years. Without the true "international" element, the Alnwick festival sadly becomes just another "musicfest" of which there are many up and down the land and which enjoy a much lower level of interest and support.
I understand that the "international" element has now been dropped and the Alnwick Music Festival 2019 has been scheduled, as a ticketed three-day event, in the grounds of Alnwick Castle.
These pages are intended as a modest tribute to all those who took part and were involved over the years with the Alnwick International Music Festival.