January2016 - Dec2017
Photo Blog
My Photo Blog and Diary page
Various photo happenings and a few thoughts along the way.

November 2017
One of my favourite views over North Northumberland, from the moors above the now abandoned Blawearie hill farm, across to the wild expanses of the Cheviot Hills. Northumberland has the reputation of being the county with the "Far distant horizons" and I feel this view is very representative of that claim. There is an enormous amout of history contained in this view.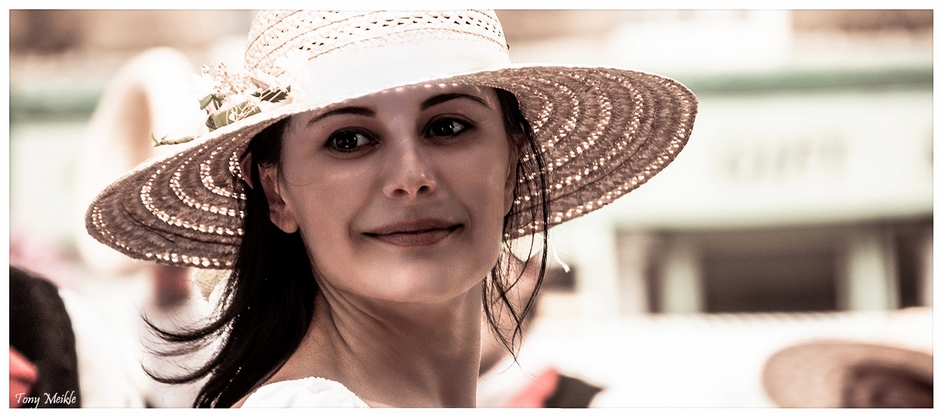 October 2017
Going through some older shots to make up a new web site portfolio. An Italian folk dancer at Alnwick International Music Festival on a sunny August day in 2007.
Camera: Nikon D200
September 2017
Autumn sunshine over Coquetdale in Northumberland. All looking very green after one of the wettest and coolest summers we have had for many years.
Camera: Lumix LX100 wih Leica f1.7-2.8, 24-75mm VS lens.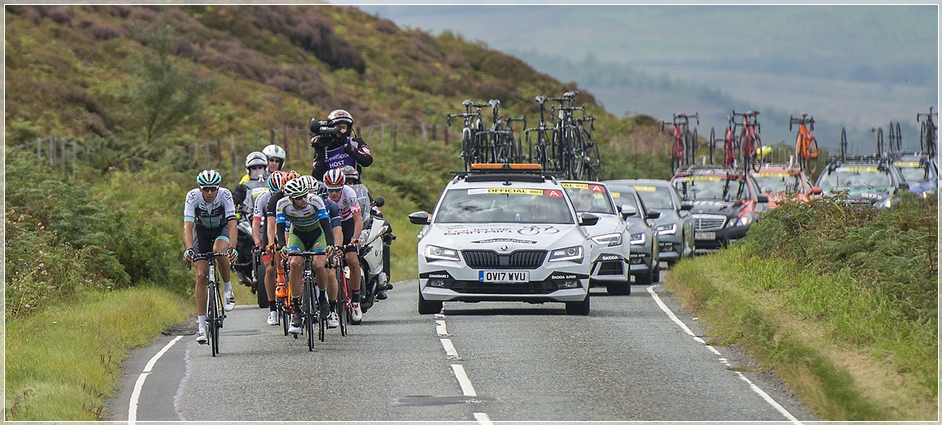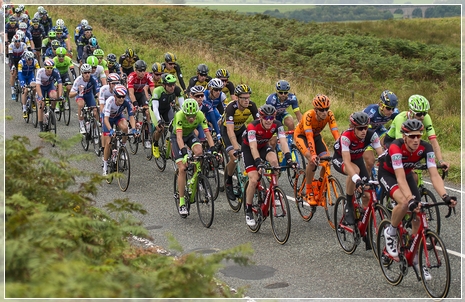 September 2017
The Tour of Britain visited Northumberland at the begining of September.
The above picture is of the breakaway group on the "King of the Mountains" hill climb at Corby's Crag, near Alnwick.
The picture on the left is the main peleton nearing the top of the Corby's Crag hill climb.
Camera: Nikon D800. Lens 70 – 200 mm f2.8 VRII
This was one of the very few occasions that I have had my camera equipment out this year. I was diagnosed with a blood disorder at the beginning of the year and subsequent investigations and treatments have meant having to put my photography on the back burner. As far as the summer was concerned, I don't think I missed much!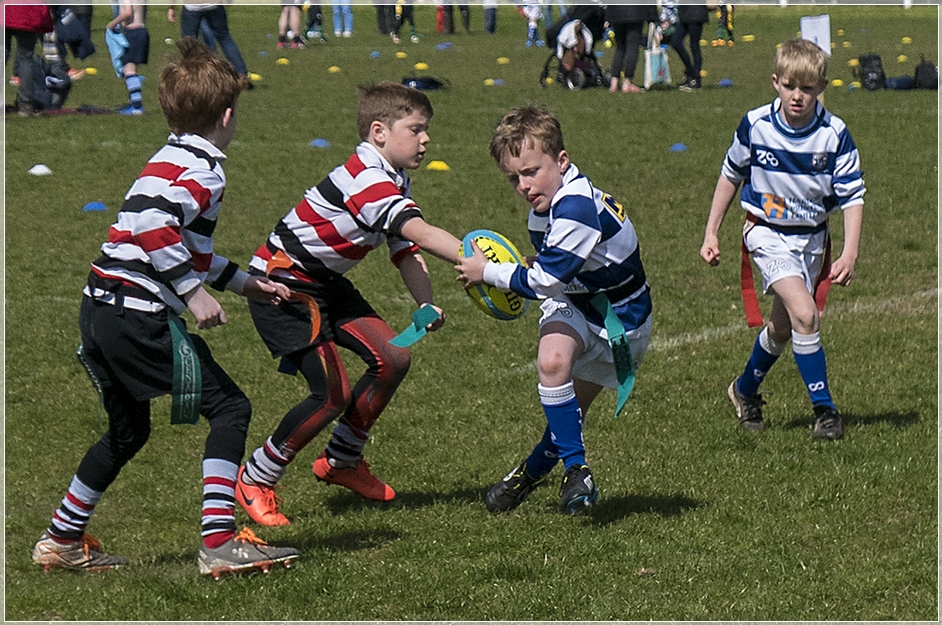 Spring 2017
The Spring Junior Rugby tournament at Alnwick Rugby Club. Tynedale (Blue and white) versus Alnwick. My young grandson with the ball and maintaining a family rugby tradition which includes international (England and Scotland) and County caps amongst his direct family forebears.
Camera: Lumix LX100 wih Leica f1.7-2.8, 24-75mm VS lens.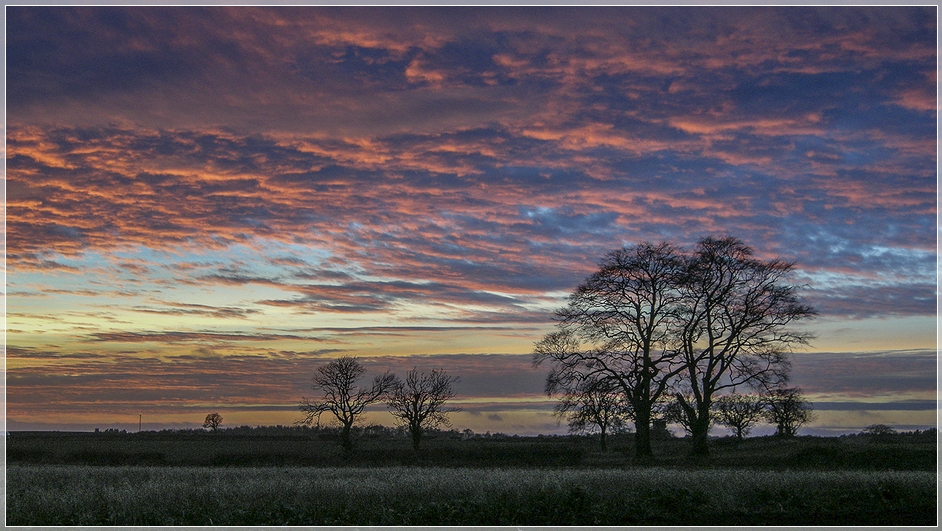 December 2016.
One of the last sunsets of the year.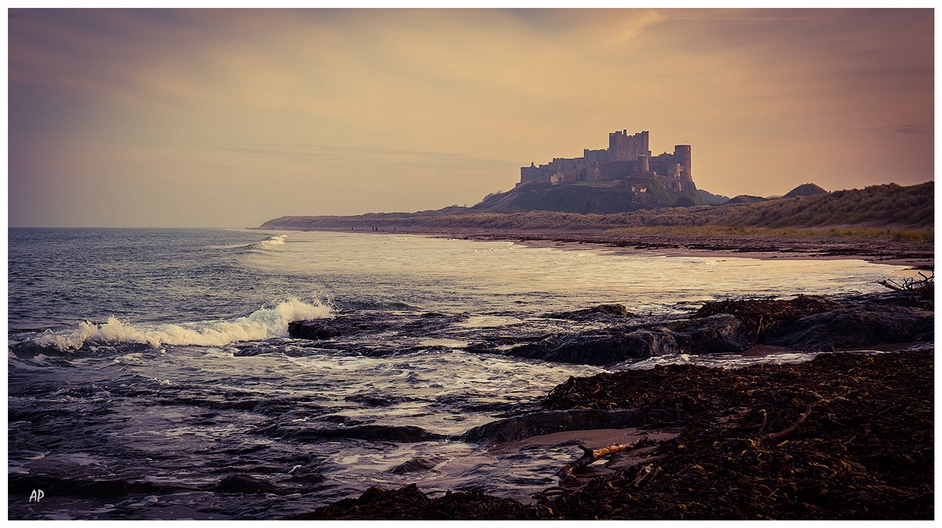 December 2016
Bamburgh Castle is probably one of the most photographed castles in Northumberland, if not in the UK! However, it doesn't matter how often you photograph it, it is never the same – but it has been here for a thousand years – or near enough! This shot from the North was on a quiet late afternoon in December.
Camera: Lumix LX100 wih Leica f1.7-2.8, 24-75mm VS lens.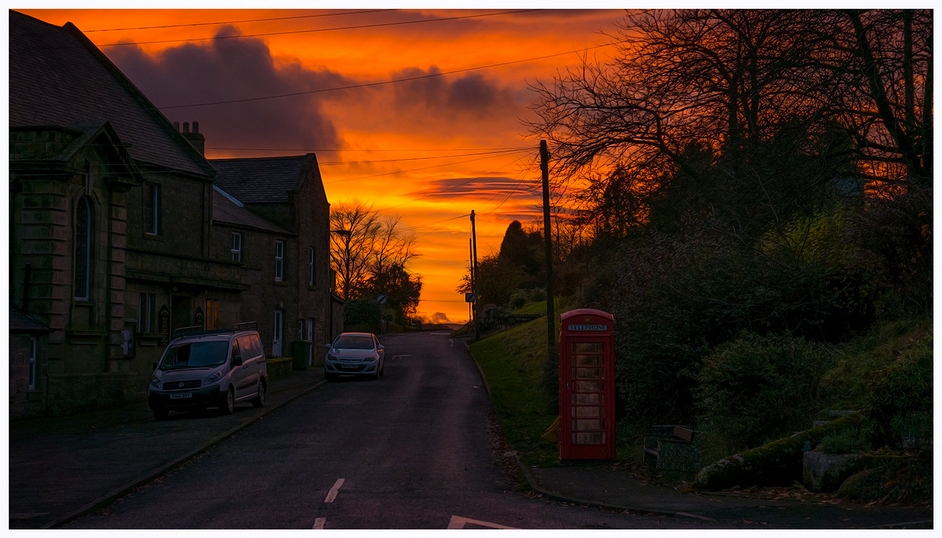 November 2016
Colourful sunsets are not especially unusual but the fiery display, as the sun slipped over the horizon on the 30th November, was particularly vivid and was noted by photographers from all over the county. I haven't seen a sunset as fiery as this for quite a long time.
Camera: Lumix LX100 wih Leica f1.7-2.8, 24-75mm VS lens.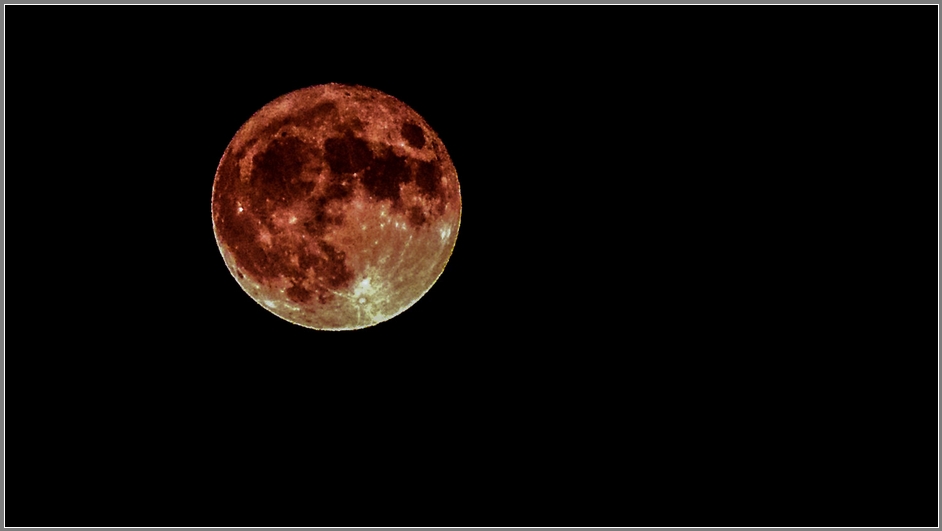 Autumn 2016
In November we witnessed the Super-Moon where the Moon was nearer to The Earth than any time in the last seventy years. As it rose through the lower atmosphere it was spectacular in both size and colour although viewing in the UK was often frustrated by overcast skies and brief glimpses.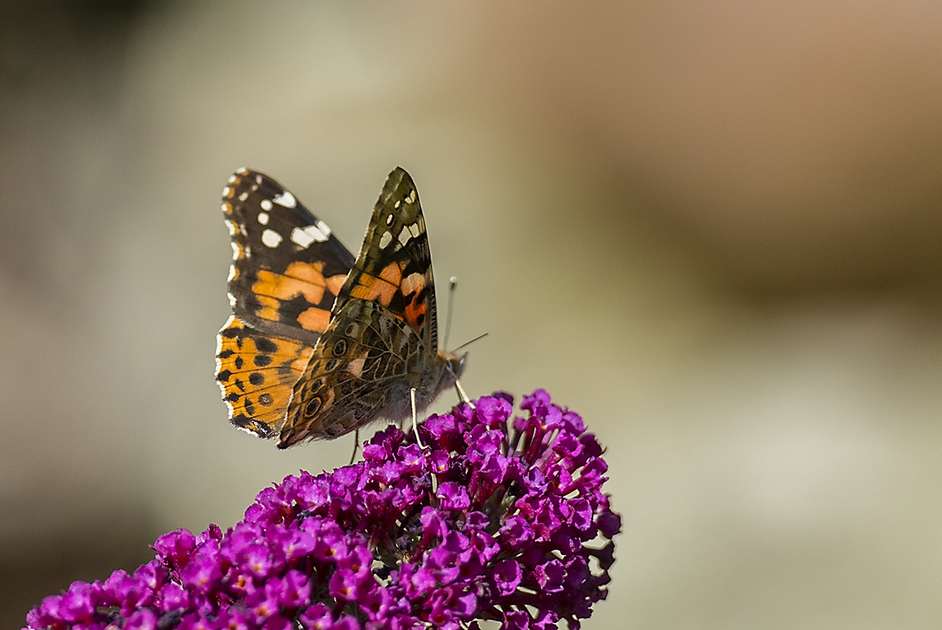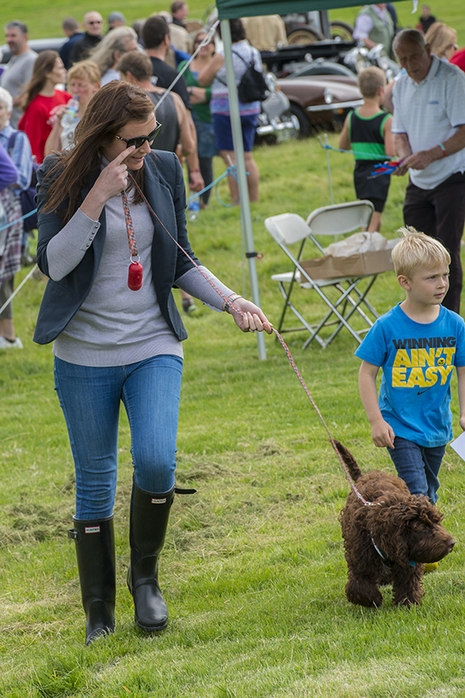 After the preceding cool and wet summer months, August produced a little more sunshine and life felt a bit better. Nature reacted to the warmth and the butterflies started to appear, including the Painted Lady above. I like this shot as it has a "to infinity and beyond" sort of feel and illustrates the unknown and multiple hazards that such a delicate and vulnerable creature has to face in its brief existence and it's incredible migration from the High Atlas Mountains of North Africa.
The annual Glanton Show, a traditional country show, which has been held every year for decades, with the occasional interruption for wars and foot and mouth disease problems, was held in a relaxed and sunny atmosphere. The traditional flowers and vegetables and other displays were as magnificent as always and the various events in the arena were well received.
All photos were taken with a Nikon D800 camera and a 70 – 200 mm f2.8 VRII lens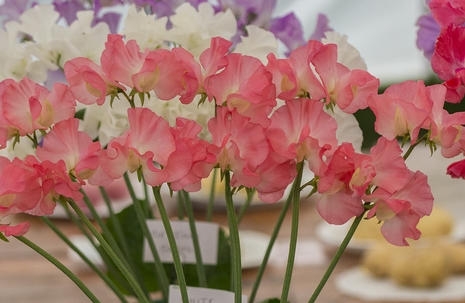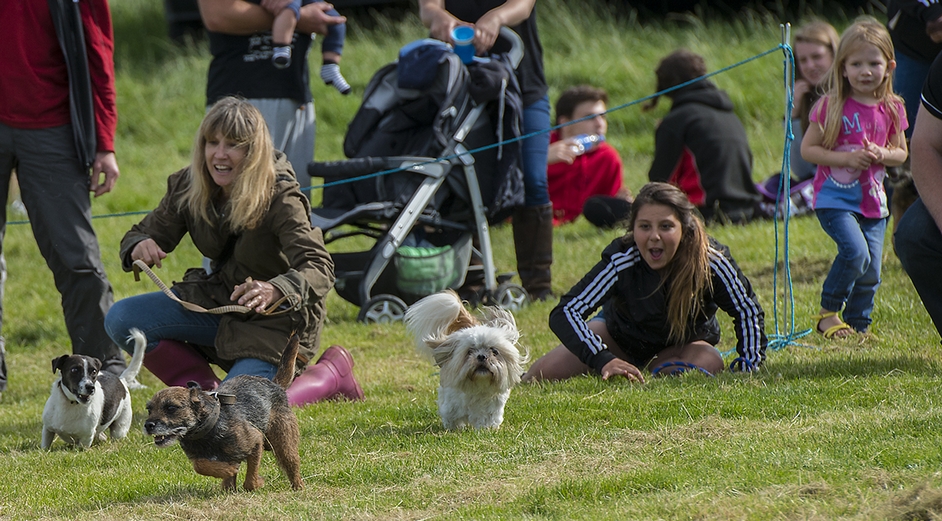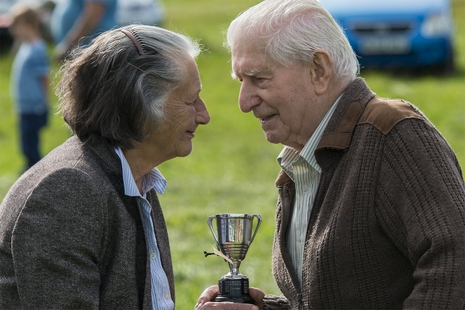 August 2016.
I was asked to stand in for our local press photographer and take a few photos at the annual Glanton Show and fell race for the Northumberland Gazette and the show committee.
A sample of the pictures taken can be seen on the
"Recent Projects"
page.
All photos were taken with a Nikon D800 camera and a 70 – 200 mm f2.8 VRII lens
Photo above: Terrier Racing.
Left: Trophy awards time.
July – August 2016
Alnwick International Music Festival
The end of July and the beginning of August means the Alnwick International Music Festival.
For the past forty years it has been a very popular and unique event, where the town of Alnwick, in Northumberland, plays host to folklore groups from around the World, who spend a week in the Town giving performances of their traditional folklore music and dance. Performances take place in various locations around the town, but the open air stage in the Market Square, in the centre of the town, is the focal point for the various colourful and vibrant music and dance routines and are free for the public to come and watch. The week provides an excellent opportunity for people of very different cultures and backgrounds to come together for a week of fun and friendship through music and dance. The international performances are interspersed with local and regional artists so as to provide a very full and varied programme.
As a great deal of the attraction of the event is visual, it is also a first class photo opportunity!
At the end of the 40th festival in 2015 it was announced that rising costs and the difficulty of accommodating very large visiting groups meant that, if the Festival was to survive, it would have to be down-sized and the festival of 2016 would be the first of a new model of festival.
The 2016 Festival was then hit by further problems in that the accommodation for visiting groups, normally provided at the local high school, would not be available this year due to the removal of the school to a new site coinciding with the Festival week.
The net result was a festival that was stripped of its international colour and vibrancy with the local and regional performers being left to carry the can. There was a glimmer of the "international" flavour on the last afternoon of the last day of the event with two excellent performances coming from Orlyk, a Ukrainian folklore group from Manchester and the Mugenkyo Taiko Drummers from Glasgow.
There was nothing wrong with the local and regional performances and they were well received; many of them are firm Festival favourites and have appeared in the International Festival mix for many years. It was not so much a matter of what the Festival was, it was more of a matter of what the Festival wasn't. Alnwick, as an international, free to watch event was unique and it pulled an audience from far and wide for many years; my wife and I have been festival-goers for twenty-five years. Without the true "international" element, the Alnwick festival sadly becomes just another "musicfest" of which there are many up and down the land and which enjoy a much lower level of interest and support. The Alnwick Festival desperately needs local support and input to survive.
By all means down-size and save money, but keep the genuine "international" element so that the unique nature of Alnwick International Music Festival is kept alive.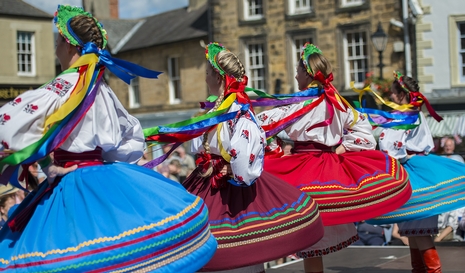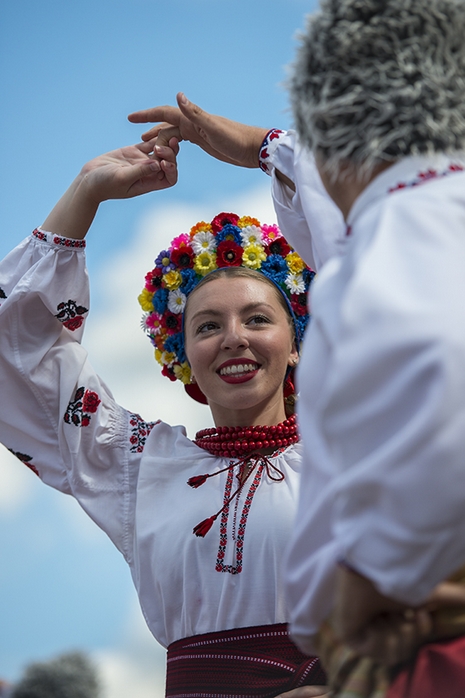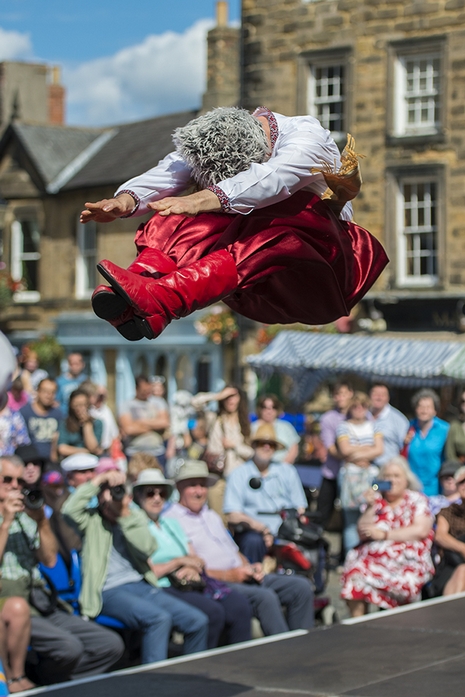 Photos above: Orlyk – Ukrainian Folklore. Camera: Nikon D800. Lens 70 – 200 mm f2.8 VRII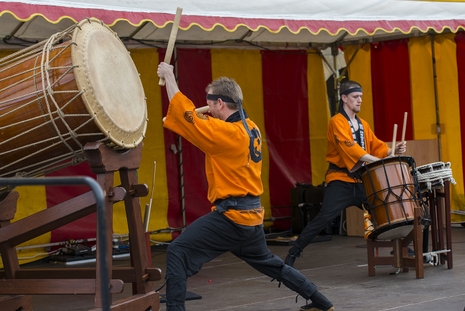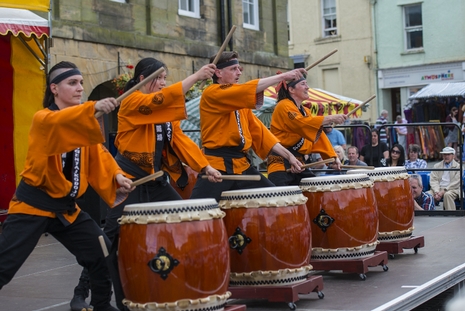 Photos above: Mugenkyo Taiko Drummers at Alnwick Music Festival.
Camera: Nikon D800. Lens 70 – 200 mm f2.8 VRII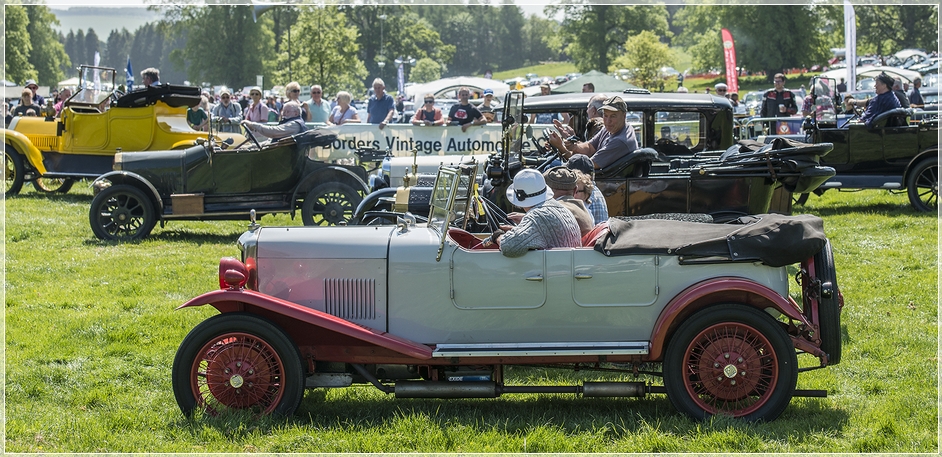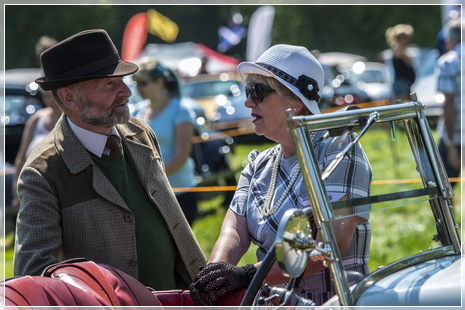 Early summer 2016
One of the few good days so far this summer was spent at Thirlestane Castle, Lauder, at the Borders Vintage Automobile Club's rally on the first weekend in June. A very busy show with a very large collection of vintage vehicles of all shapes and sizes, all beautifully and enthusiastically maintained to a very high standard.
Photo above: A 1930 Riley Sports, in the foreground, waits with other vintage vehicles in the main arena.
Photo left: Looking the part is an important element of the rally.
Camera: Nikon D800. Lens 70 – 200 mm f2.8 VRII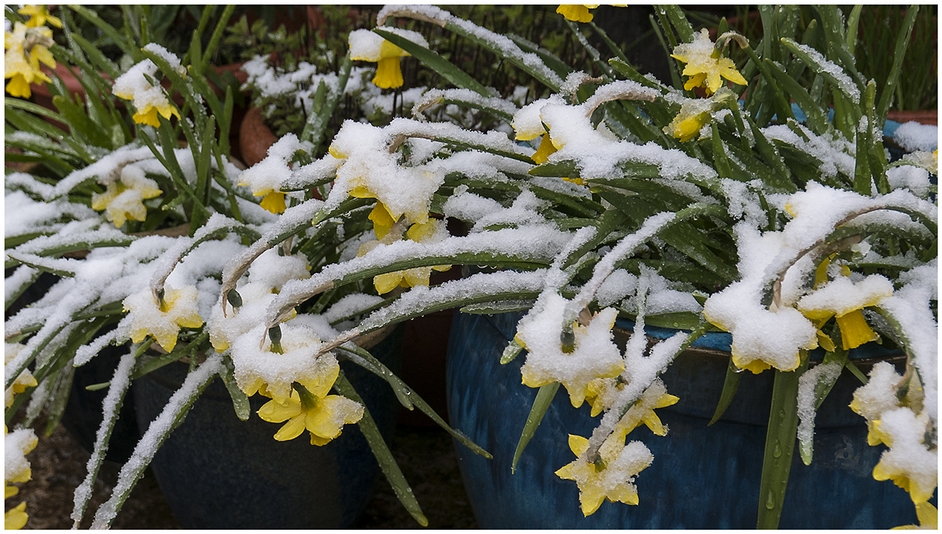 End of April 2016
Spring Bank Holiday this weekend and winter is still with us! The Daffodils are also feeling the heavy weight of a spring snowfall! Camera: Lumix LX100.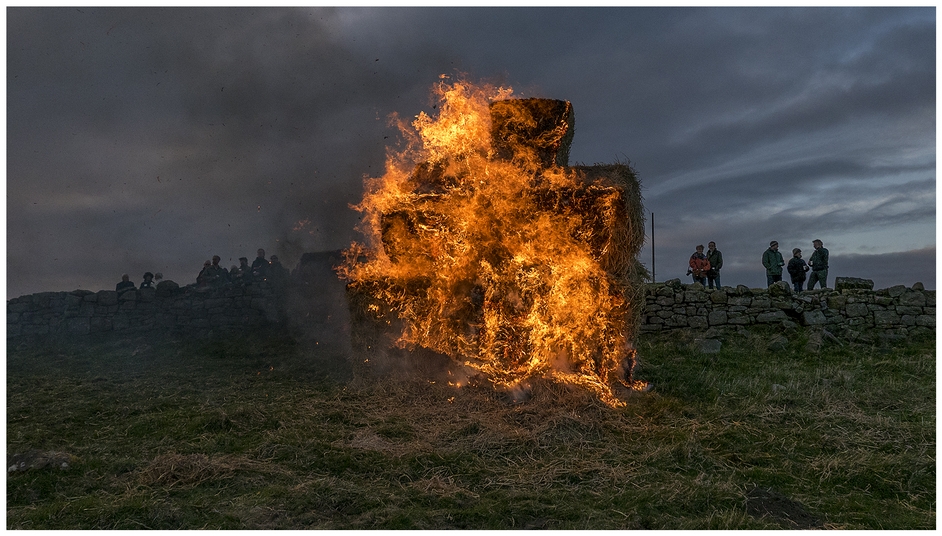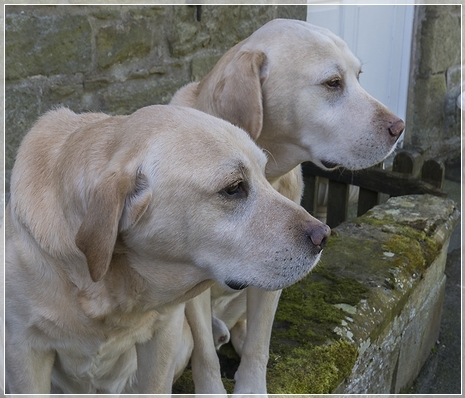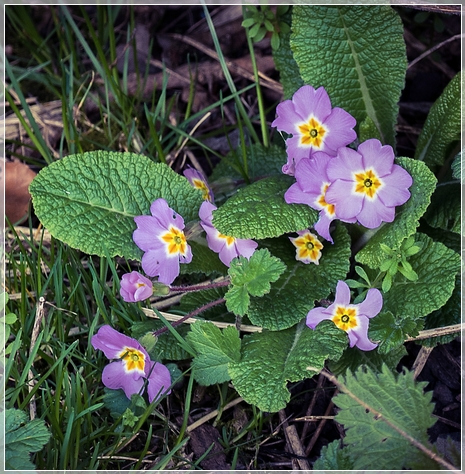 Above: The Queen's 90th Birthday haystack beacon on Glanton Pyke in Northumberland. Camera: Lumix LX100 wih Leica f1.7-2.8, 24-75mm VS lens.
Left: Our near-neighbour's two Labrador dogs sit on the garden wall and watch the World go by; or more correctly, a lady dog on the far side of the road!
Camera: Lumix as above.
April 2016
An interesting month with commissions for portraits, cars and other such subjects.
For some time I have been looking for a small, easily carried, un-assuming "point and shoot" camera that does not take up most of your luggage allowance when travelling, but, at the same time, is capable of producing something near the sort of results that I have come to expect from my higher end and very much heavier and bulkier Nikon DSLRs and lenses. Not an easy ask, but I have recently been given a Lumix LX100 camera, with, most importantly, a Leica f1.7-2.8, 24 - 75 mm lens. Without going into technical details, I have found this camera to be a little gem. It is somewhat retro in design, but because of this, it is totally understandable, controllable and user friendly and an ideal, quickly adjusted, travelling companion. I shoot mainly
RAW files
in aperture priority and this camera certainly fulfils all the needs I have for rapid adjustment and travelling light, but without sacrificing too much on the quality front. It has also got a lot of whistles and bells that I will probably never use, but it's video ability, to mention one, is certainly a very impressive extra.
The photographs above and on the left were taken using the Lumix LX100.
Left: Primulas surviving amongst the corrugated iron and other rubbish in a neglected corner of an abandoned allotment.

Camera: Lumix as above.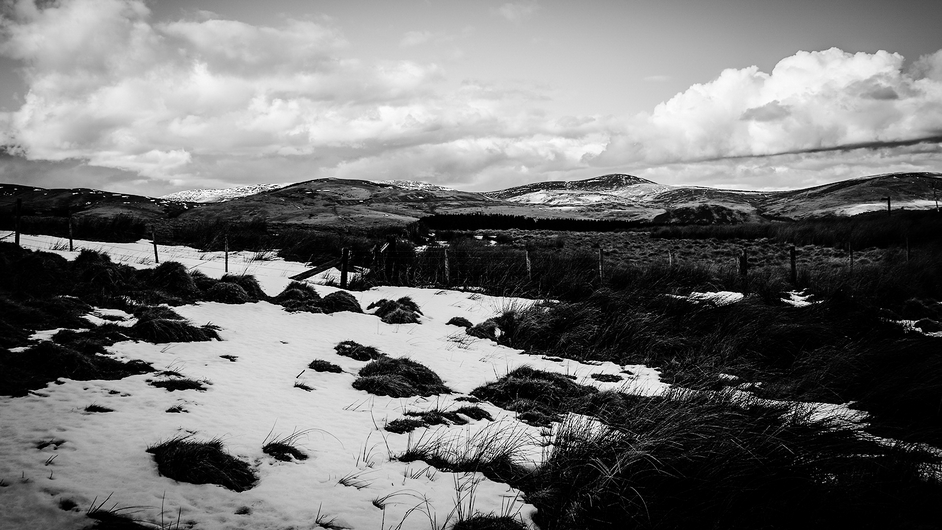 February - March 2015
Not very much snow this winter, although it doesn't seemed to have stopped raining since returning from Canada in January. A quiet period with time to explore the plethora of photo effects and overlays that are to be found out there free on the web, so that people can turn their mobile phone photos into works of art! With a little adjustment in Photoshop, some of the available overlays can produce really quite interesting results.
Photo above: The Cheviot Hills in a light covering of snow. The photo was converted to high gain black and white using Adobe Photoshop Express.
Picture below left. A Photoshop mono conversion of a photo previously finished in Portrait Pro Studio 15 (not free).
Picture below right. Another glamour shot incorporating an overlay found in the standard free app version of Pixlr.