January2021 - Dec2021
Photo Blog
My Photo Blog and Diary page
Various photo happenings and a few thoughts along the way.

______________________________________________________________________________________________________________________________________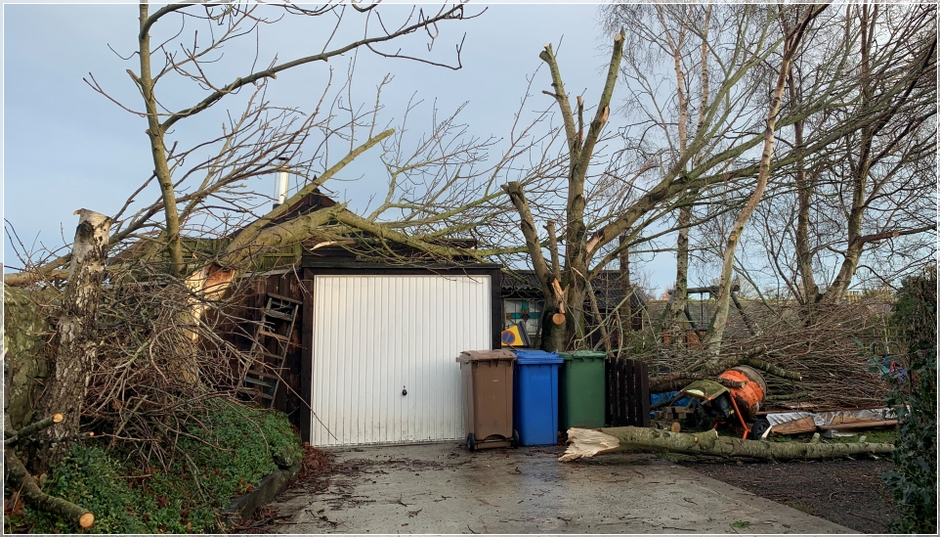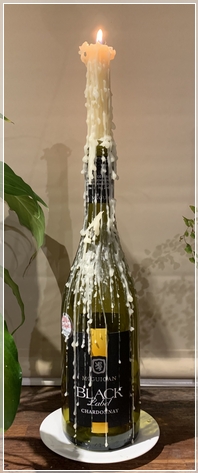 Winter 2021 ­ Storm Arwen.
It is twenty years since this area was last hit by a major destructive storm. The end of November saw the arrival of Storm Arwen with Beaufort Scale force 12 winds from the North. We were in the "Red Zone" for this storm and this resulted in widespread damage and destruction with blocked roads and loss of power and much damage to buildings and infrastructure. The back lane to our house was blocked by fallen trees, but this was relatively minor, when compared with other places. But the lights are now back on and it's back to business as usual with a new strain of Covid threatening our everyday life. The World is becoming a very troubled place.
It was very interesting how the "back to candle power" highlighted the vulnerabilities of modern day living. The lack of power led to the failure of broadband and mobile signals, leaving many to having no means of communication in the event of emergencies etc. We have kept our copper phone connection and this proved to be our only reliable means of communication with the outside world. I understand that copper connections are to go, which is worrying. Many people around here were without power and communications for over a week.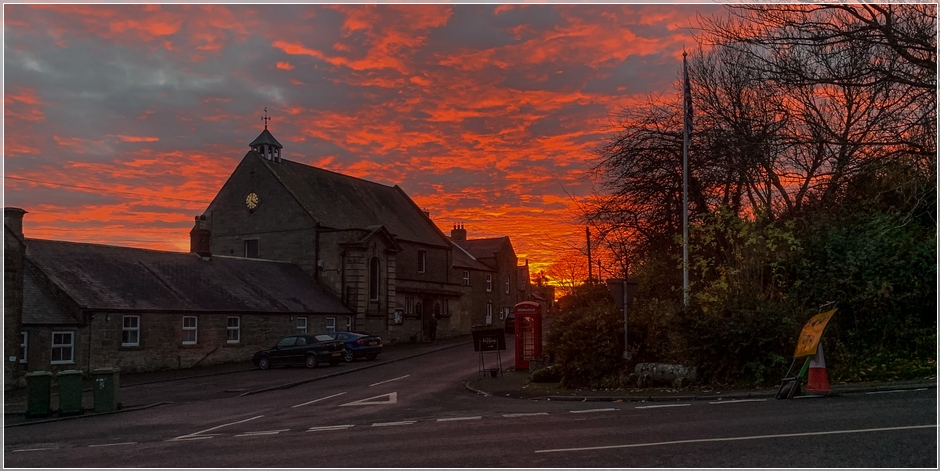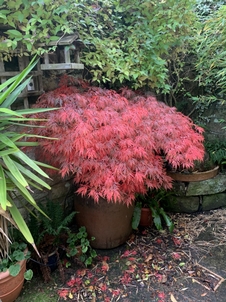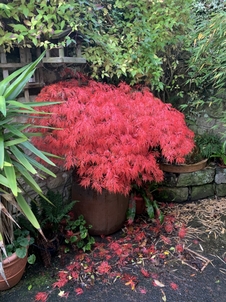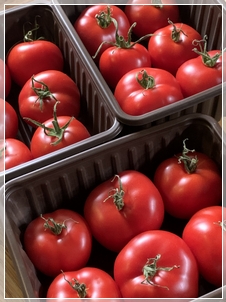 Now we are into November and the weather remains surprisingly mild for the time of year. Our Japanese Maple has gone through its spectacular cycle of Autumn shades but, this year, it has been the better part of two weeks later than previous years – must be global warming! The tomato crop (Moneymaker) this year has also been good, despite a cold start to the growing season.
Covid rumbles on and we are now into booster jabs and flu jabs in an attempt to fend off what could be a difficult winter to come. Time will tell.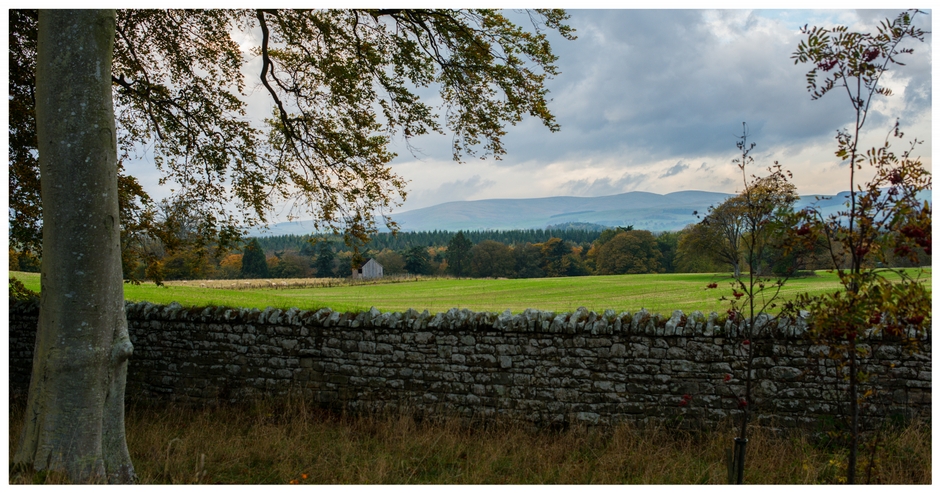 Above: Autumn shades in Alndale. Camera: Nikon D800. Lens 50mm prime, f1.4.
We are now moving from late autumn towards winter. Covid still rumbles on but most restrictions in England have now been lifted. Hopefully it will stay that way, but I suspect it probably won't! There is currently a threat of a winter energy crisis due to the global effect of the pandemic with fuel and gas being in short supply. Time to lay in the off-grid alternatives I think.
The COP 26 conference starts in Glasgow at the beginning of November with the aim of finding solutions to all the World's climate problems, supposedly caused by fossil fuels– again we shall see!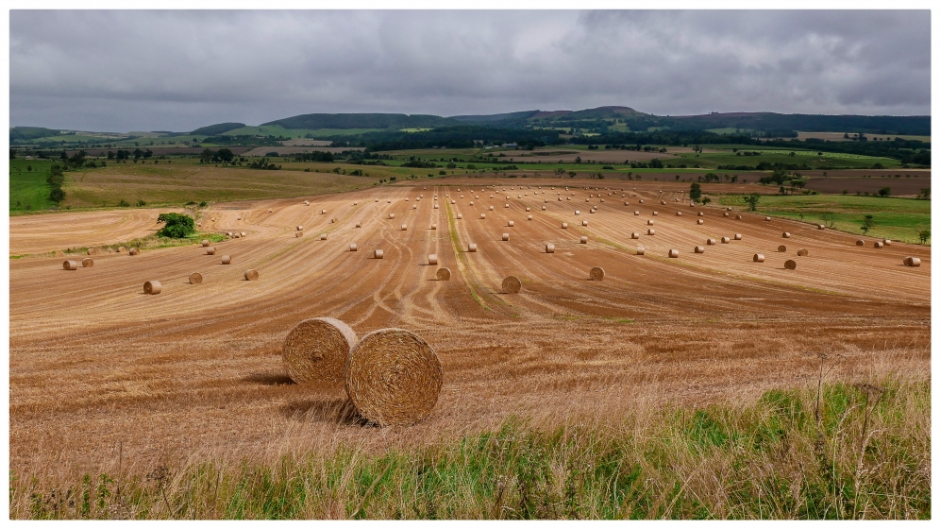 We have now reached late summer and the Covid pandemic is still very much the dominant news item, despite many of the previous restrictions being lifted. The situation is now complicated by further aggressive strains, and it is probable that new restrictions will be brought in during the autumn months.
For my own part, I have now been cleared to drive again, following my suspected stroke in the spring. Having been virtually locked up at home for the past year and a half, being able to get out again and see a little of the surrounding countryside, represents a major step forward in the quality of life.
In the words of the Bob Dylan song, "The Times they are a changing", and with the collapse of Western influence in the Middle East and Asia, brought on by a seemingly weak American administration, and the supposed threat of global warming, it is becoming increasingly obvious that a new world order is beginning to evolve: what that order might look like is worrying and yet to be seen.
Photos:
Above: looking across the Till Valley in Northumberland toward Ros Castle.
Below: A late summer floral meadow in Northumberland.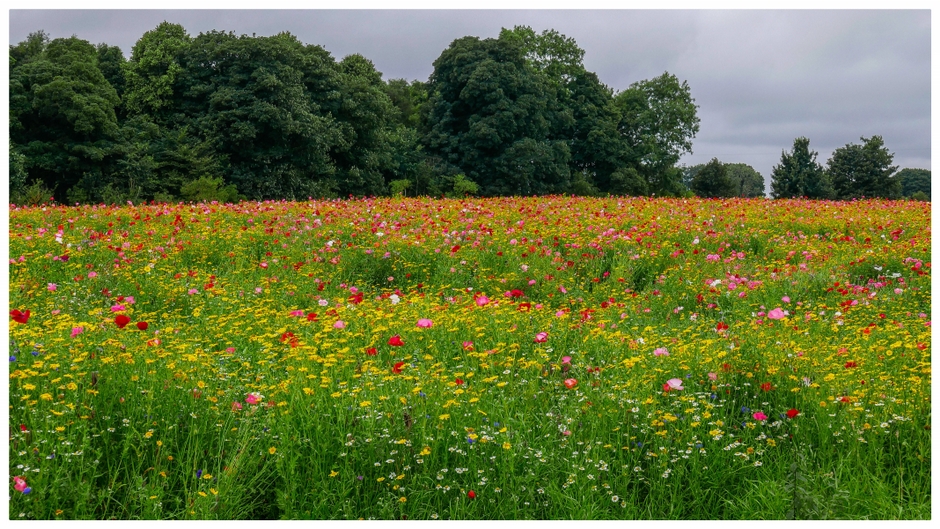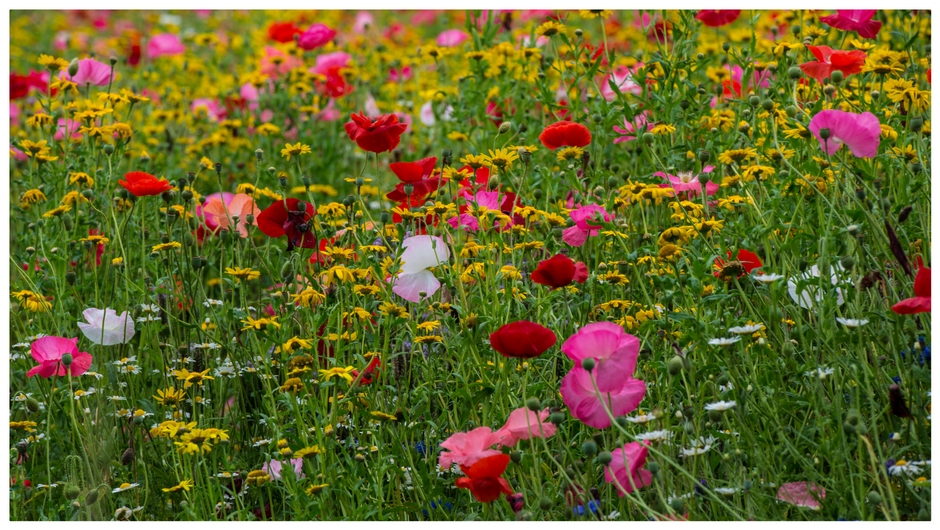 We have now reached mid-summer and the point where all remaining Covid regulations were supposed to come to an end. But no; the appearance of a new and more aggressive variant has meant a delay in our freedom for a further month and we are therefore having to wait until mid-July before all restrictions are finally lifted. However, there is a growing suspicion that this will be a temporary break and new restrictions will be imposed in the Autumn to combat the third wave.
As last Summer, our Robin Redbreast family is again terribly busy increasing its offspring numbers and, as usual, is on the look-out for any tasty morsels that might be on offer. He always knows where to find us!
Right: Robin. Camera: Nikon D800.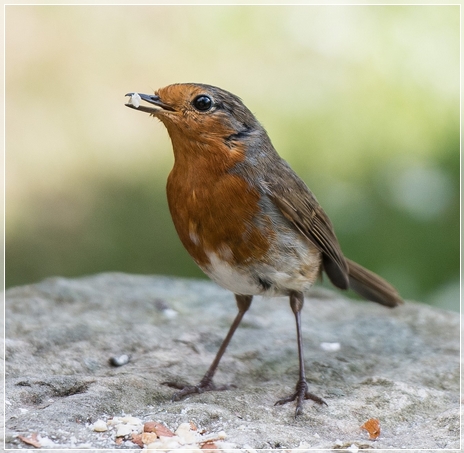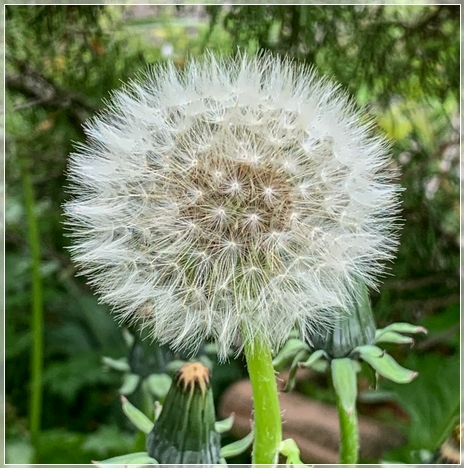 With the end of lockdown, hopefully not too far away, and with the prospect of regaining our freedom, my own health has again let me down and having suffered a very unexpected stroke, I find that I am very much confined to home and the opportunity for getting out and about currently very limited. Due to the pressures on the NHS, the waiting lists for treatment of medical issues other than Covid are getting longer and following emergency treatment at A&E it seems that I have now joined the waiting list for scans and the stroke clinic.
We are now into June after one of the coldest and wettest May months I can remember. April was very dry but May certainly made up for any shortage of rain and it was only the last five days of the month that we had any glimmer of late spring and early summer. June has at least started quite well.
Photo left: Dandelion "Clock". Apple iPhone XR.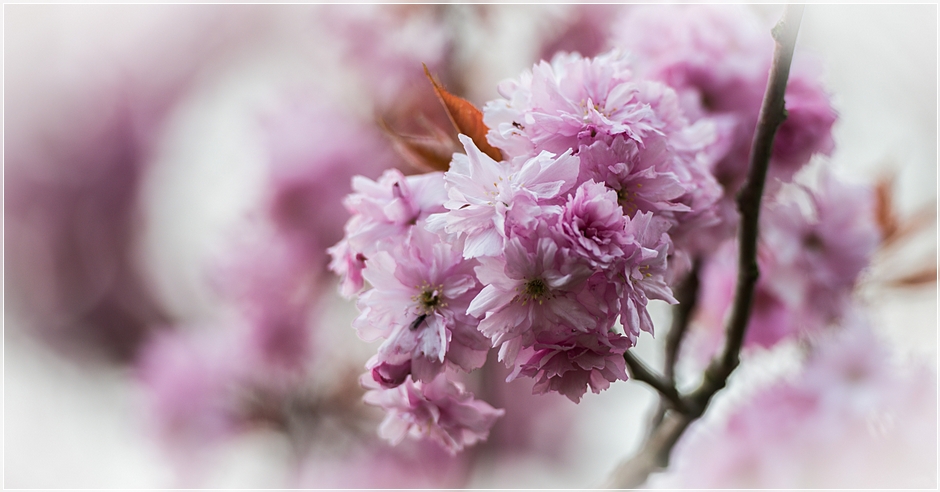 Photo above: Spring Flowering Cherry. (Nikon D800)
Similar to last year, this spring has again been very dry and we did not see any real rain until the last few days of April. Also and despite the fact that we have seen plenty of sunshine, it has been very cold with a lot of night time frosts. According to the Met Office, it has been the coldest April for ninety-nine years and has presented us with some real problems in the greenhouse and garden.
Co

vid continues but there is now some hope of a little normality on the horizon and an eventual end to lockdowns – we shall see.
Photo right: Frosty nights and cold April dawns. (iphone XR)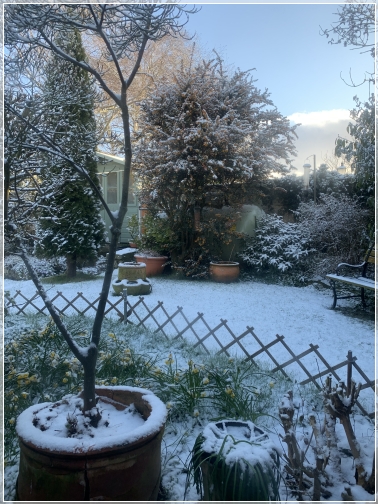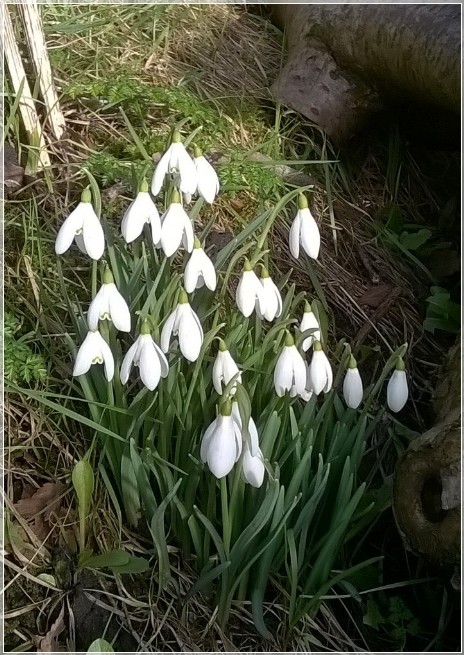 We are now into March and early spring. The weather is mixed but the spring bulbs are making their usual strong appearance.
We are still under national lockdown rules and, in a few days' time, we will have been subjected to the Covid emergency powers for a year. The garden and surrounding area has never been photographed so much by me before! At least I have been able to record a little, if not a lot, of all the seasons. No two years are ever the same and this, at least, provides some variety.
The National Covid plan is to start relaxing the restrictions at the end of March, but this will depend very much on the opinion of the "experts". We will see what happens!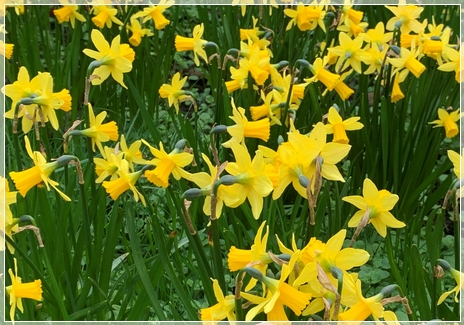 Some of my Northumbrian landscape photos were used to illustrate parts of an important consultative report, commissioned this year by The Northumberland and Newcastle Society, entitled "Northumberland Sandstone Ridges and Vales - A Valued Landscape". Two of the photos and text are extracted beneath.
The report was prepared by Alison Farmer and Associates, Cambridge.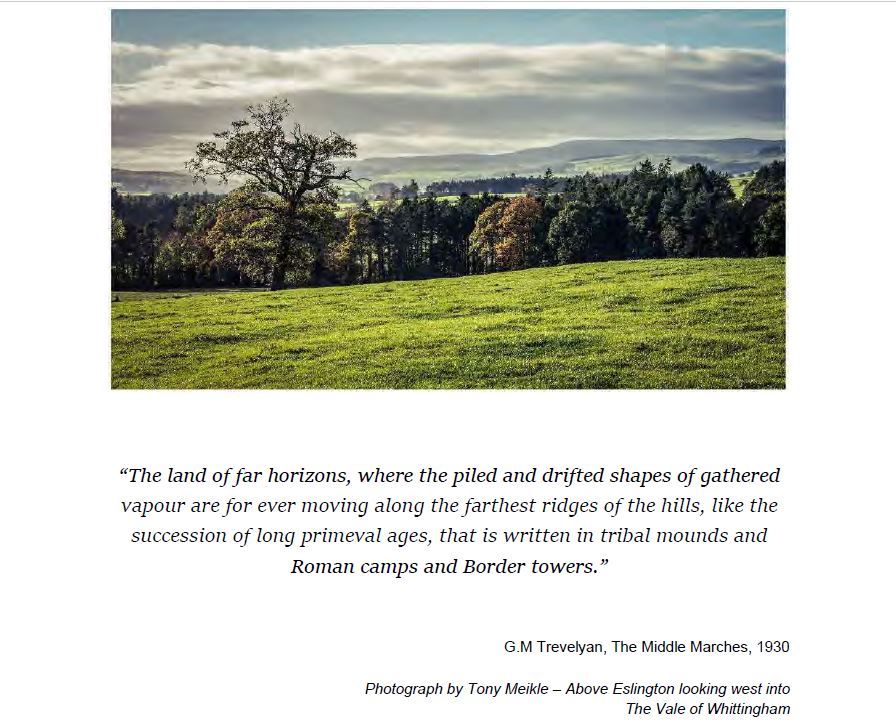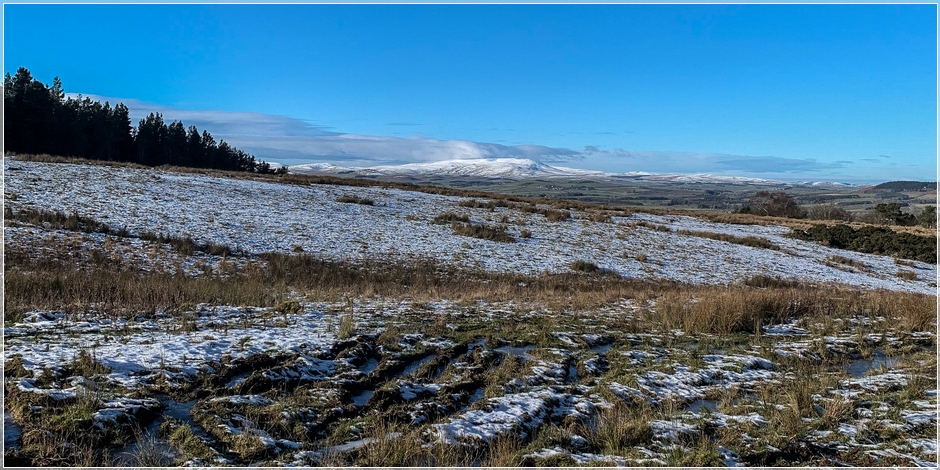 The far horizons of Northumberland with the Cheviot in a very seasonal covering of snow.
The Pandemic continues with a full national lock-down. But the vaccine has arrived for my age group and my wife and I have now received our first dose of the Oxford jab. Will this be the start of the recovery? The economic damage, both at home and abroad, is immense. Tens of thousands have lost their jobs and future prospects for many look very bleak. There is little doubt now that the recovery will be long and painful and the picture of the world we had before is about to change very considerably. A new world order, with considerable Asian influence and control, is now becoming even more evident.
The spring bulbs are now beginning to push up and hopefully the warmer days of spring are not too far away now.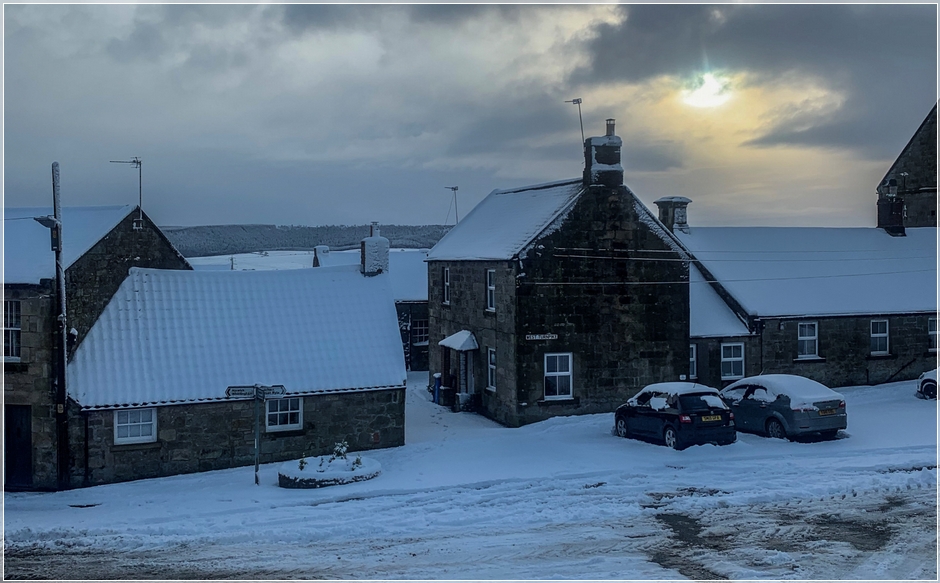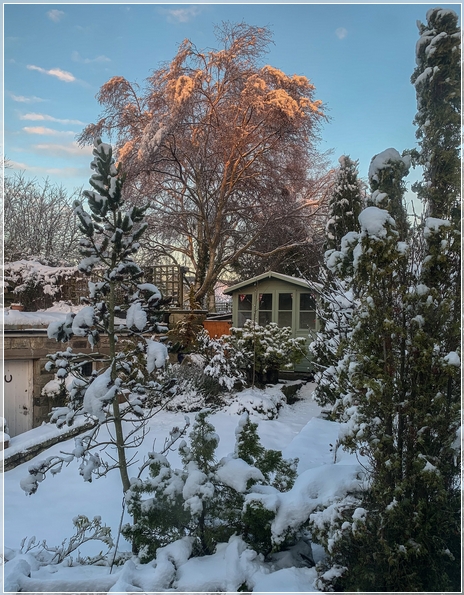 New Year and another Covid lock-down; this one probably through till March at which time my wife and I will be celebrating one year of shielding and being largely cut-off from the outside world and our family. The lock-downs started in the spring, when the weather was generally very spring-like and pleasant, which made the novelty of being confined to the home much easier to tolerate. This time we are in January with some very seasonal and cold snowy weather. Hopefully, Spring will not be too far away and, with newly released vaccines, the pandemic will start to wane.
From our rural isolation, on our laptops, we are watching a World drama unfolding. The effect of the pandemic has been catastrophic all around the Globe. Economies have been shattered and people are having to survive in increasingly difficult and often impossible situations. Governments are becoming increasingly unstable and with Brexit and the chaotic American political scene, it is becoming obvious things will never be the same again.
Recovery, as followed two World wars, will be long and painful and there will be a great deal of political competition and pressures as a new world order emerges.
Photo above: Looking over the rooftops of the West Turnpike in Glanton towards Thrunton woods.
Photo left: The Summerhouse, in the garden, looking a bit on the chilly side.
All photos: Apple iphone XR