January2018 - Dec2019
Photo Blog
My Photo Blog and Diary page
Various photo happenings and a few thoughts along the way.

Above: Late afternoon autumn sunshine at Harbottle Castle in Coquetdale, Northumberland. Below: Looking towards The Cheviot Hills above Alwinton from Harbottle Castle.
Camera: Nikon D800. Lens: 50mm f1.4.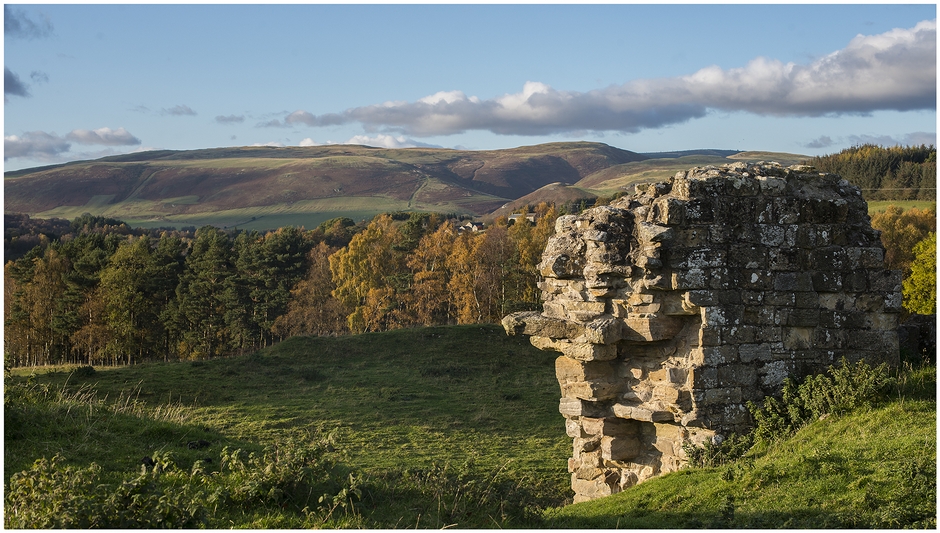 Above: The Cheviot Hills, in Northumberland, as seen from Chillingham Wild Cattle Park on a rain swept summer's day.
The Chillingham Wild Cattle Park, Northumberland.
The Cattle Park is unique in many respects: the cattle were first corralled on the Estate over seven hundred years ago and are thought to originate from the wild cattle that roamed the land at that time.
Since then they have been allowed to live and to get on with herd life with the very minimum interference from man. The result is an incredibly interesting herd of animals where birth, life and death have been lived out in a totally natural way. The bulls fight for their mates and are often injured or even killed in the process. The cows produce their offspring, sometimes unsuccessfully, away from the herd. Hard winters produce problems and can have a significant impact on the health of the herd.
The important thing to remember is that these animals are wild in every respect: they have a social structure and live in a World that man has no part in and hence they are quite simply dangerous to outside intruders. They are certainly not anything like the familiar domesticated animals that they might so easily be mistaken for.
All pictures taken with A Nikon D800 camera with a70 - 200 mm f2.8 VR lens.

Left: "Wonkey Joe" - a formidable member of the herd.
Below: Looking North from Chillingham Wild Cattle Park towards a rain swept Scottish borders.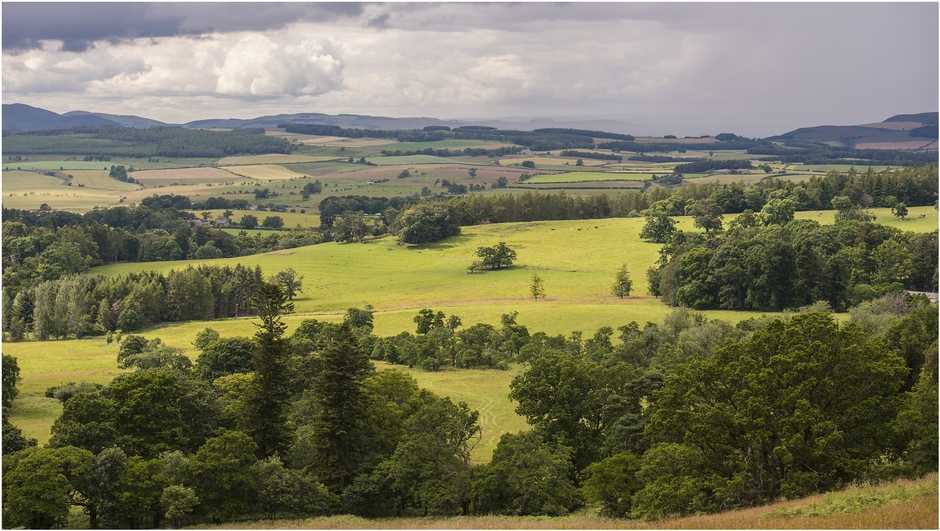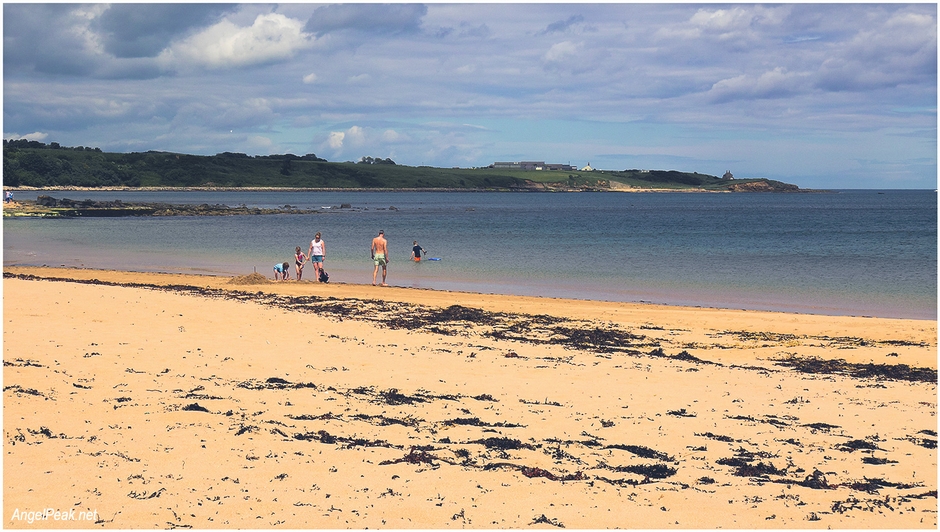 The Northumbrian coast can boast some of the very best beaches in the country. Miles of un-spoilt and un-crowded sands, from Berwick-on-Tweed in the North, right down to Tynemouth in the South. The above beach is at Sugar Sands, near Boulmer Haven.
D-Day 75th Anniversary. June 6th 2019.


June 6th this year marked the 75th anniversary of the D Day Normandy landings. We were in Normandy for the 70th anniversary in 2014, when the above photographs were taken. The top photo is of the Pegasus Bridge, which was the first tactical victory of the 6th June landings. The second photo is of Arromanches, which became the location of the constructed Mulberry Harbour used as the essential lifeline for supplies to the invading Allies.

The remnants of the harbour are still very obvious.
The anniversary this year, which is probably the last that the few remaining veterans will be able to attend, was marred by left wing political demonstrations against current politicians and especially Donald Trump, the President of the United States. The US was of course our principal ally in 1944. This was all uncalled for and very sad for the veterans who were there for the sole purpose of remembering those comrades who were lost in their great endeavour of 1944.
An interesting excursion to Kielder forest and the Kielder forest drive in Northumberland, an area I know well having served my time over forty years ago, as an area forester in the region. Sadly, the magnificent conifers of the original 1919 planting are now confined mainly to the sheltered lower valley slopes. The drive now is very much through re-planted acres of bleached stumps of the former crop and wind-blown margins. Such is the lot of a commercial forest crop rotation; but it will grow again.
The purpose of my visit was to see the new Shelter at Blakehope Nick (above), the latest addition to the Kielder collection of art and architecture projects. I had been asked to provide a large panoramic photo of the vista from the Nick for incorporation on the interpretive panel in the shelter. Unfortunately, the end result was not a panorama, but a heavily cropped standard landscape version, without description, and because of the building design, on a narrow portrait orientated panel. The original picture design concept I feel was lost.
The original panorama from Blakehope Nick
The end of February produced some very early and exceptional spring weather with temperatures reaching 19 deg C on the 26th of the month. The Breamish Valley, in Northumberland (below), felt more like May rather than February
in the sunshine
!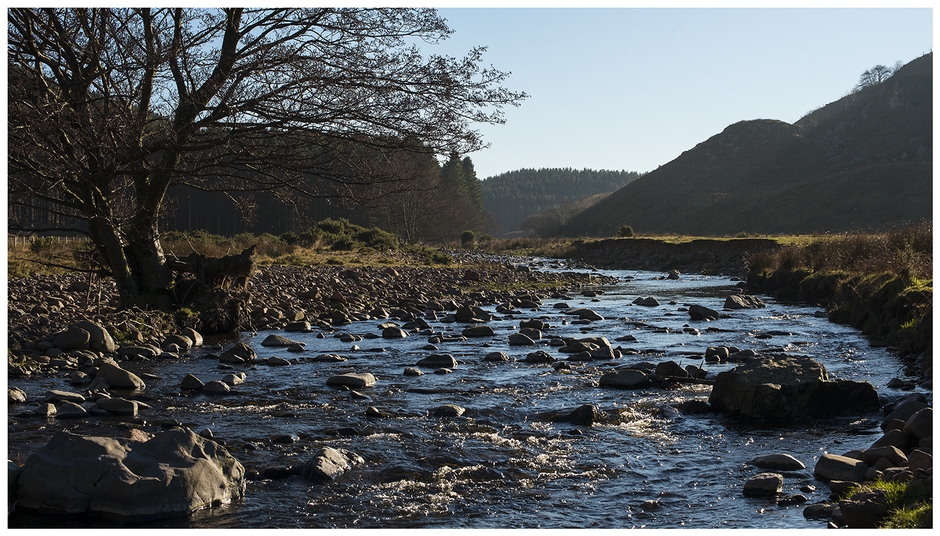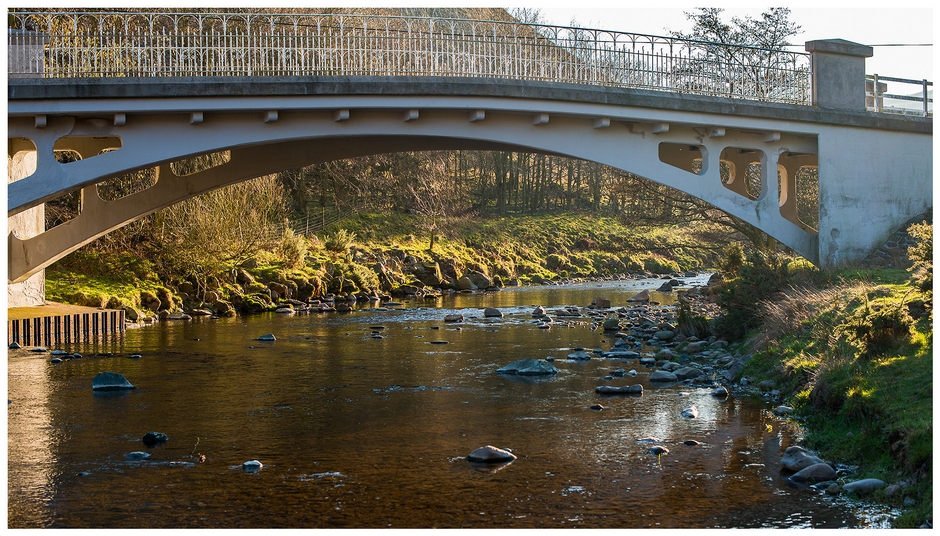 Wednesday 6th Feb. This guy has just helped himself to a House Sparrow on our feeding station. Living up to its name I suppose! I keep calling this Sparrow Hawk 'him' when in fact it is a young female bird.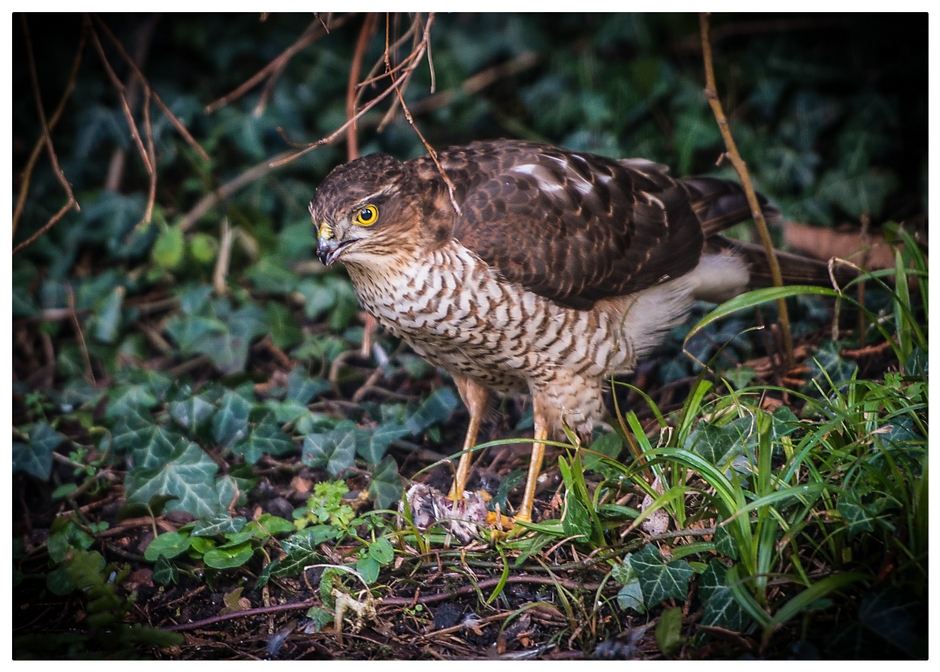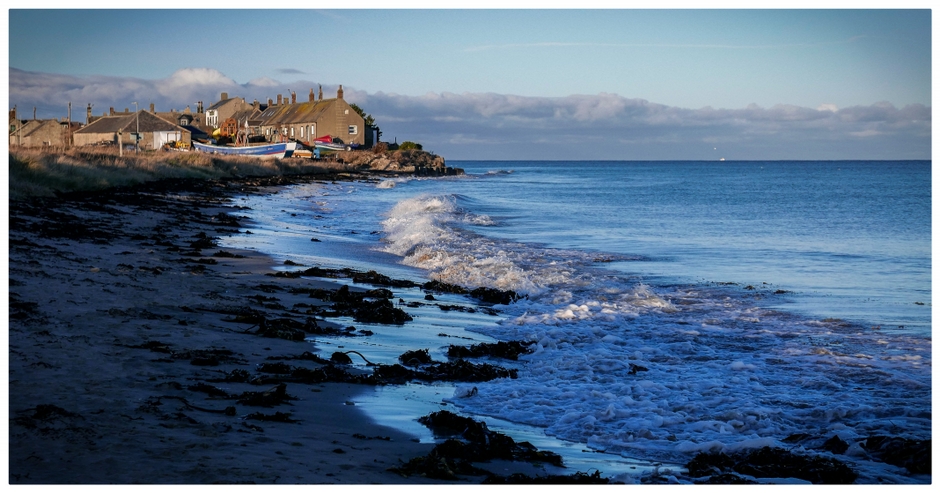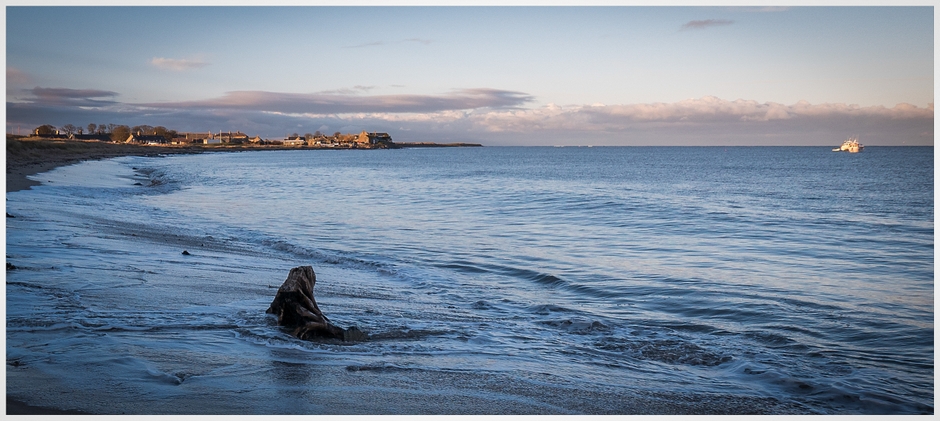 Above: Evening Spring Tide at Boulmer Haven, Northumberland. Camera: Lumix LX100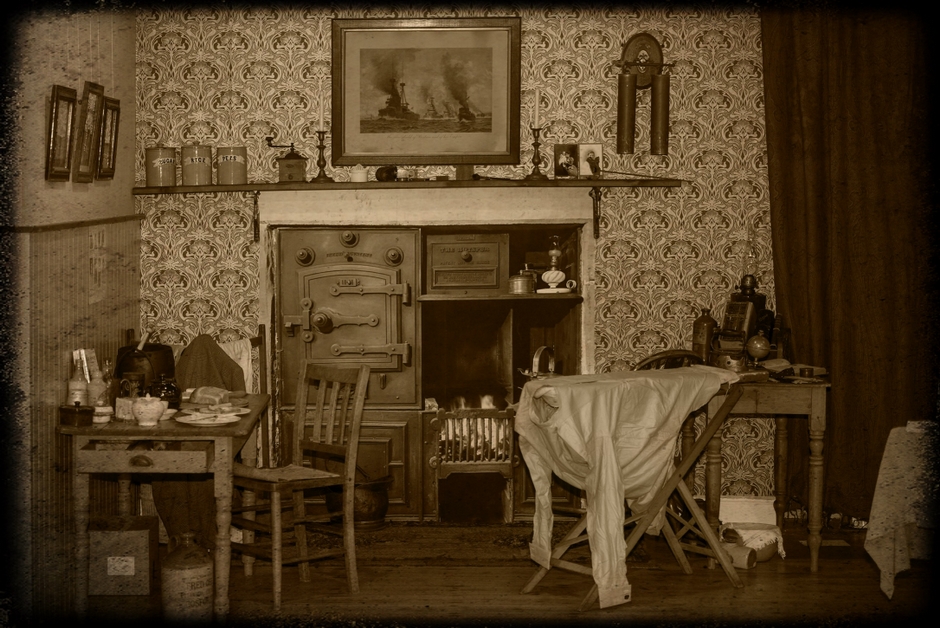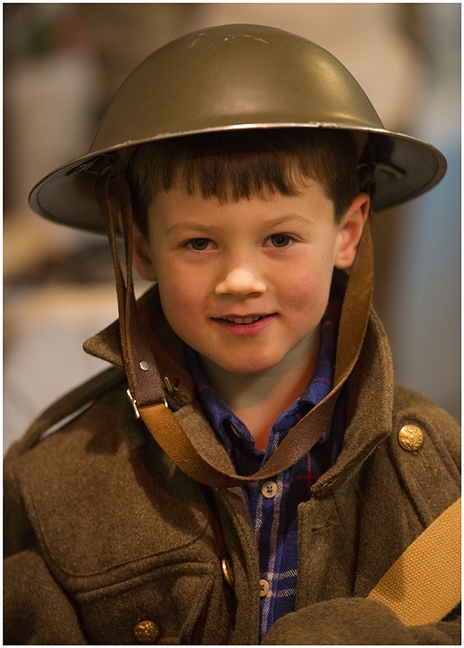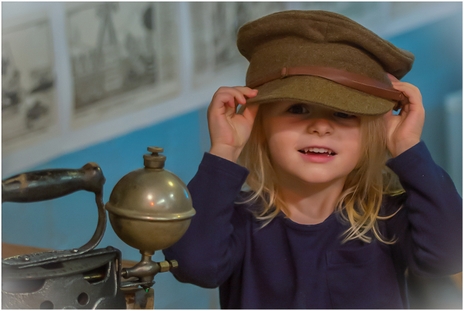 I was asked in November to take a few photos of a village event to commemorate the end of World War One. It took the form of a tea party that was held in our village hall on the Armistice weekend. Similar events were happening all over the Country.
A lot of effort and originality had been put into the event by the organising committee and the supporting displays and memorabilia were really first class. There was a very convincing reconstruction of a typical back parlour and how it would have been at the end of the war and a most impressive wall hanging produced, over a four-year period, by the local sewing bees.
It was good to see the involvment of local children who made excellent models!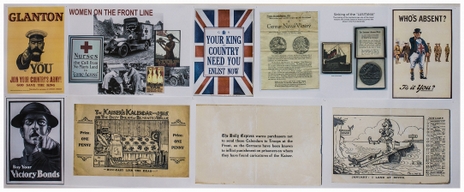 On a technical note, all photos were taken without flash and in poor lighting conditions at high ISO with a Nikon D800 DSLR with a 70-200 mm f2.8 VR lens.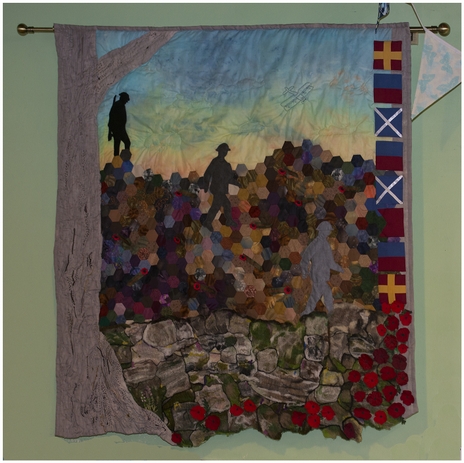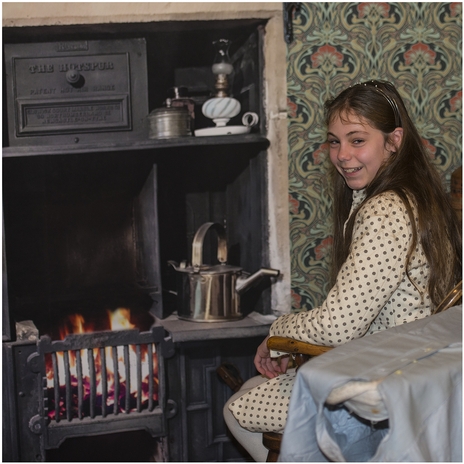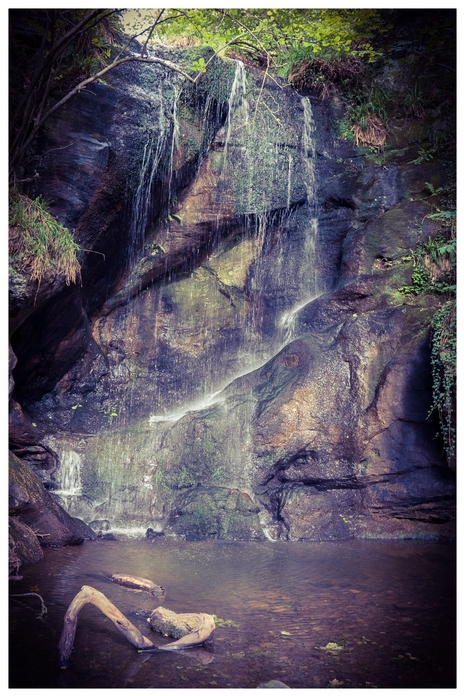 Roughting Linn, in Northumberland, is one of those places that represents a very interesting and relatively unspoilt connection with the past. Once you have found out where it is, it is not the easiest or most obvious place to get to, with steep ground and fallen trees, with an eroding footpath to negotiate. When you do find it, it is a small, very well hidden waterfall, surrounded by lush vegetation and trees. But this is not all.
In the woodlands above the Linn are a series of ancient earthworks that are capped by sandstone slabs that are heavily carved with "Cup and Ring" symbols, which indicate that the Linn was the site of a Neolithic settlement. The Bronze Age people that inhabited these environs date from between four to six thousand years ago. This was once a relatively populous area, which is hard to believe today.
Picture above: Neolithic "Cup and Ring" carvings.
Left: The waterfall at Roughting Linn.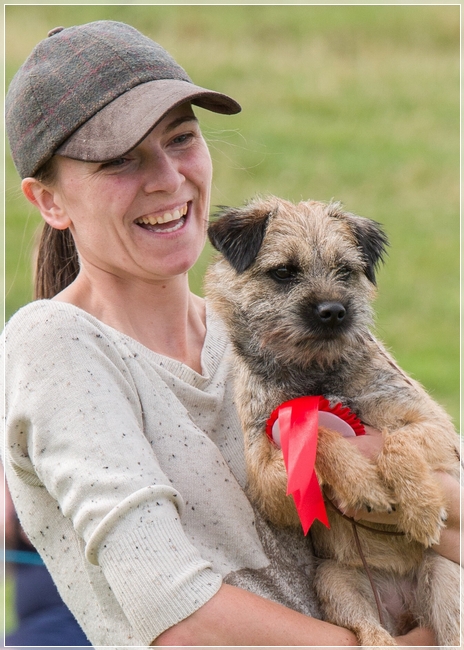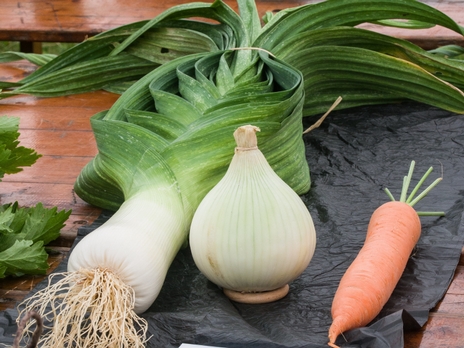 This year was one of the warmest summers we have had for many years. Sadly, this year the Alnwick International Music Festival, which has been a regular event for over four decades, did not go ahead for various organisational reasons. It has been a very regular photo opportunity for many years and was missed.
The local Glanton country show did however go ahead as usual and provided a chance to get the camera out and record the displays of flowers and produce together with the various events that make up the traditional show.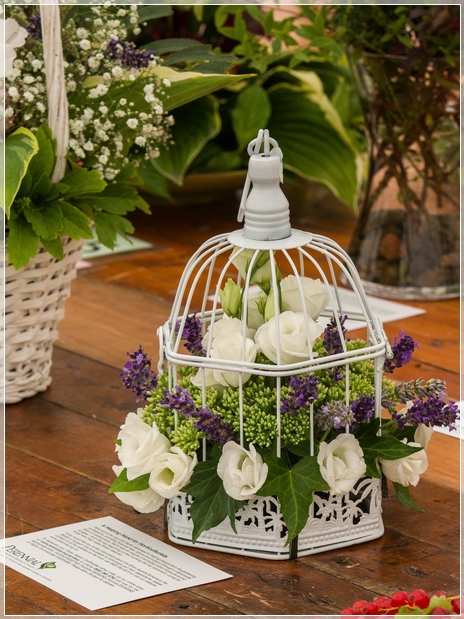 Camera: Nikon D800. Lens: Nikon 70 - 200 mm f2.8 VR.
Below: The Wall Butterfly (left) and the Peacock (right). Regular garden summer visitors.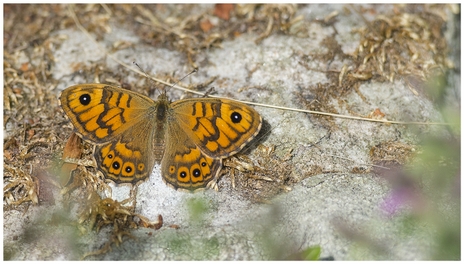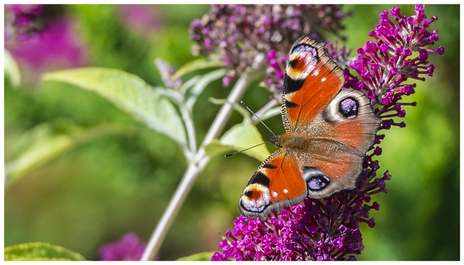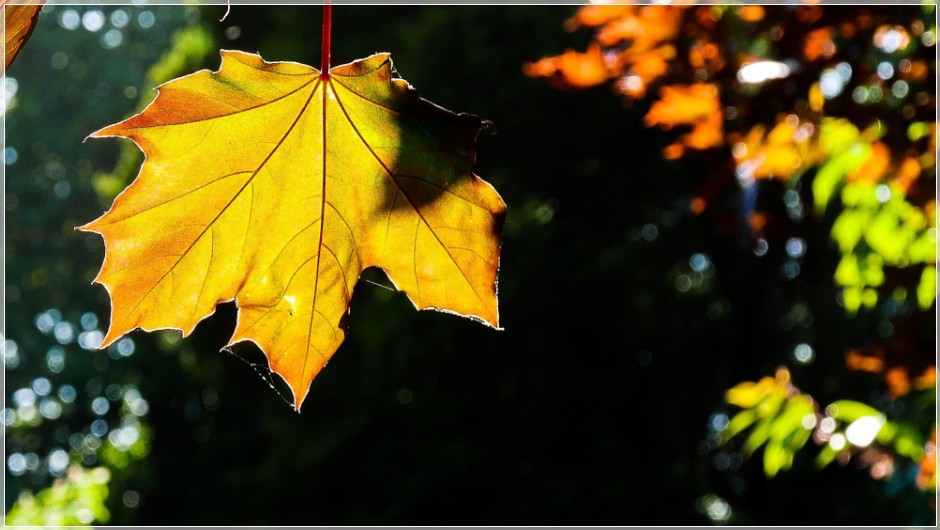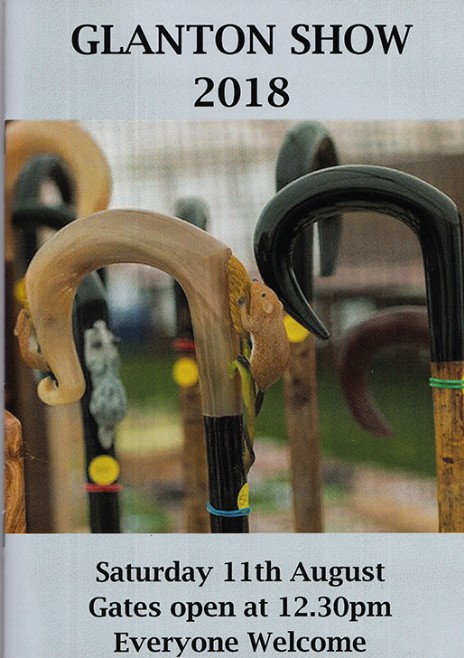 April/May 2018
After the seemingly very long winter, with snow at some point each month for six months, it has been very pleasant to welcome the Spring again.
There have been a number of warm sunny days in May and the blossom on the trees has been exceptionally impressive, much to the delight of the pollinators who have probably had a bit of a tough time during the winter cold. Hopefully a good crop of apples will result.
Very pleased to see one of my photos being used locally on the front cover of this year's Glanton Show programme.
Cameras: Left Nikon D800 with 70 - 200 mm f 2.8 VR lens.
Above and beneath: Lumix LX100.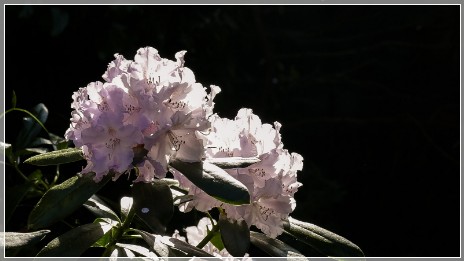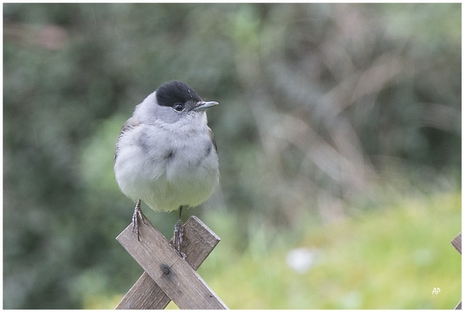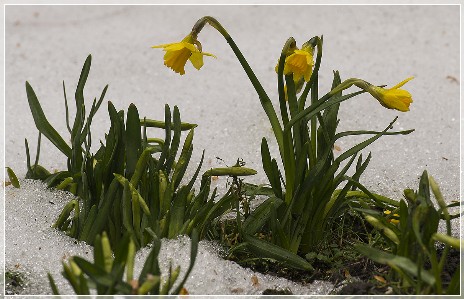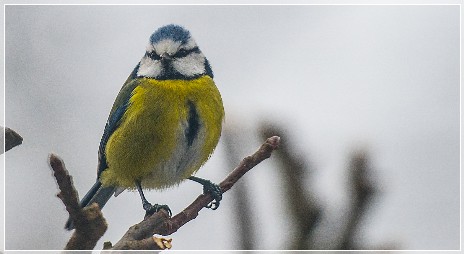 It seems to have been a long winter this year with periods of snow in each of the last five months. Last time we had snow on this scale was in 2010. So much for global warming!
It is amazing how resilient nature is: the daffodils were buried under two feet of snow, but emerged a week or so later, a bit bent and shocked, but went onto flourish undeterred, despite fresh snowfall! The birds were also sorely stretched by the harsh conditions but somehow survived.
Cameras: above and left Nikon D800 with 70 - 200 mm f 2.8 VR lens. Beneath Nikon D700 with 50 mm lens.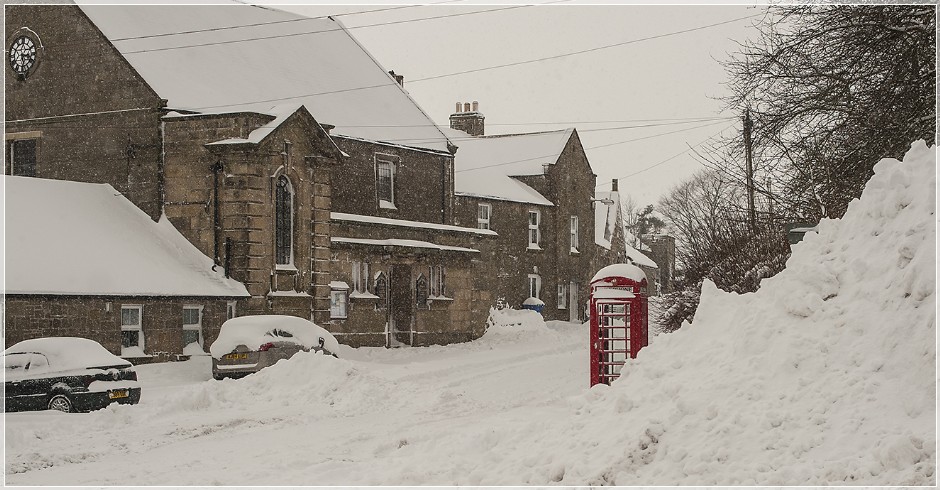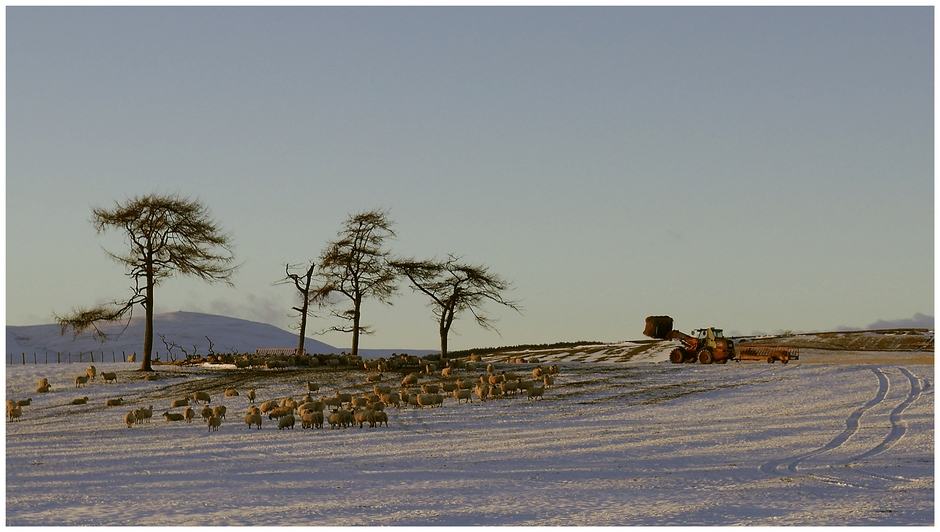 Winter in Coquetdale - it's tough being a sheep in this climate! I have been taking pictures of this particular group of Larch trees for well over a decade. Sadly, they have reduced in recent years from nine trees to four. A black and white shot that I took a dozen or so years ago became 'Photo of the Week' in one of the then popular ephoto zines on the net. Camera: Lumix LX100.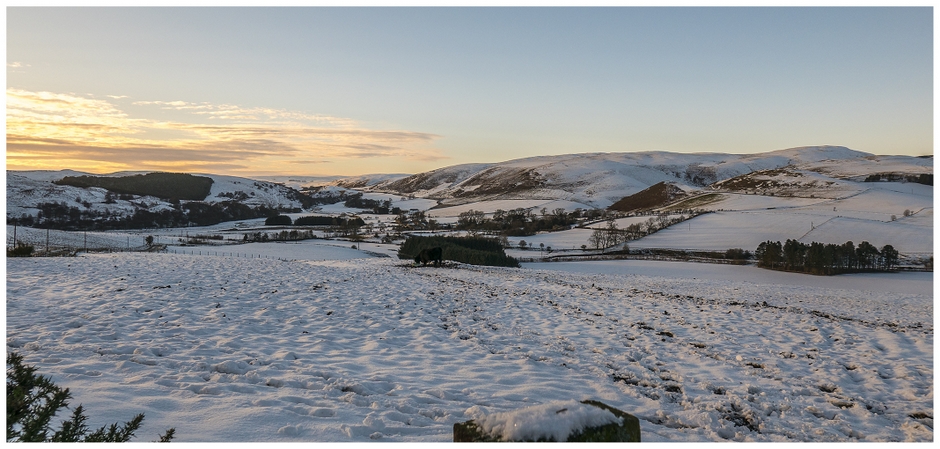 Coquetdale in Winter. The village of Alnham in January. Camera: Lumix LX100.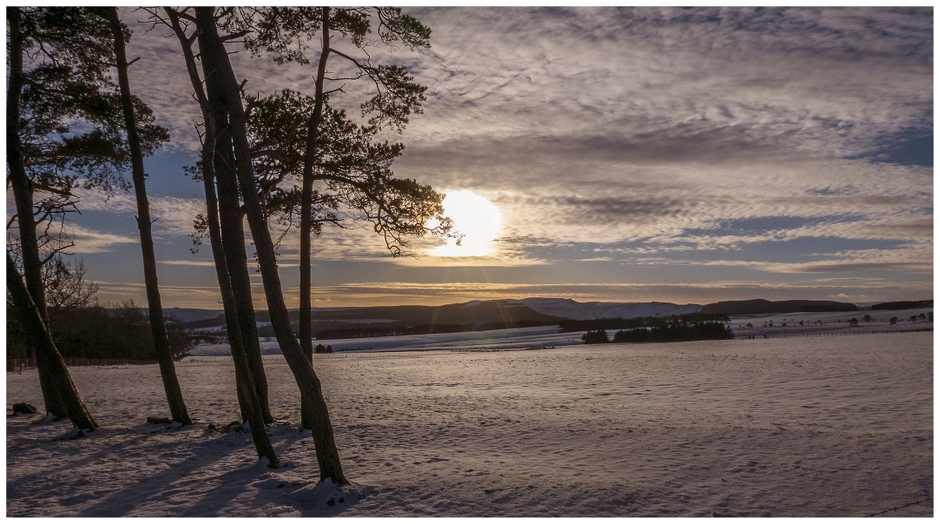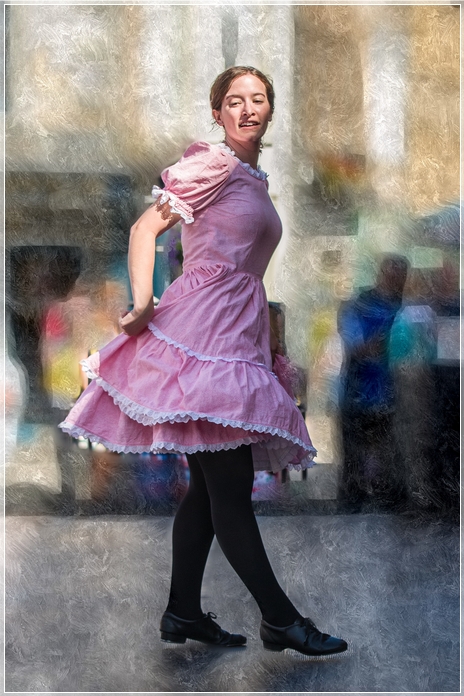 Above: Winter comes to Coquetdale in Northumberland.
January, when the weather is not at its best and everyone is recovering from the Christmas break and all its excesses, is probably a good time to sit down quietly and go back over a few of the photos taken over previous years. An interesting fact about photography is that, although a photo does not change, your attitude to a particular shot can change considerably, especially in the light of new experiences and learning. An ordinary shot can often, with a little graphic imagination and manipulation, be turned into something quite different and pleasing.
The picture on the left of a traditional country clog dancer from the Appalachians in North Carolina performing at Alnwick Music Festival a year or two ago, is one that I particularly like. The original shot was nothing special, but with cropping and layering with special effects, now freely available online, something quite different emerges.
Picture edited with Adobe Photoshop and Pixlr.
Original photo taken with a Nikon D800 with 70 – 200 mm f2.8 VR lens.